Date of Episode: Tuesday / 08/27/2013
Top 6 Perform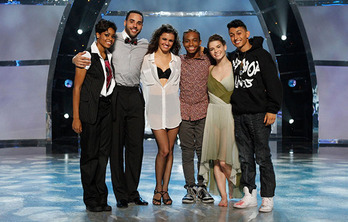 The Top 6 dancers — Hayley Erbert, Aaron Turner, Jasmine Harper, Du-Shaunt "Fik-Shun" Stegall, Amy Yakima and Paul Karmiryan — kick off the evening with an African number choreographed by Sean Cheesman to Soweto Gospel Choir's "Hlohonolofatsa."

Jesse Tyler Ferguson, the Emmy-nominated star of "Modern Family," once again joins Nigel and Mary at the judges' table. But the pressure is off for the panel since the decision about which dancers are moving forward is now completely in the hands of the voters.

Tonight each dancer will perform three times before the final two guys and two girls are revealed. All six will dance one solo, one duet with a fellow contestant and another number with an All-Star.

Before the first duet of the evening, it's off to rehearsal for Paul and All-Star Kathryn (Season 6) who will be dancing a Tyce Diorio Jazz routine. The number illustrates a struggle for control between a woman and a man and is danced to Yello's "Tied Up." Nigel says that week after week, Paul proves he can do any style of dance. He impresses Mary with his fast and articulate movements. Jesse recalls seeing Paul's audition for the show and commends him for the progress he has made.

This week as they prepare to dance their solos, the contestants are going to get some words of encouragement from their families. Before Amy takes the floor, her teary-eyed parents express their pride at watching her grow as a dancer. She then performs a powerful solo to "Anna's Theme" from the soundtrack to "The Red Violin."

Next up, Hayley and All-Star Joshua (Season 4 winner) meet Nappytabs choreographers Tabitha and Napoleon D'umo to learn a Hip-Hop routine. They take the genre to the boxing ring, with Joshua appropriately playing an ex-champ coming back to train the new kid. They hope their dance to Wiz Khalifa's "Work Hard, Play Hard" will be a knockout. Mary says Hayley has the skill and the will to stay in the competition. Jesse praises her ability to pull off such a tough character, while Nigel says she looks like Hilary Swank in "Million Dollar Baby."

Before Fik-Shun's solo, his dad says that Du-Shaunt has always been a showman and being able to watch him is an honor. The last standing Hip-Hop dancer performs to "Look at Me Now" by Chris Brown and featuring Lil Wayne and Busta Rhymes.

Tapper Aaron teams up with Season 8 winner Melanie for a Spencer Liff Broadway number, danced to George Michael's "Faith." The piece is about a couple that is totally in love but knows how to push each other's buttons. Jesse says the performance was unbelievable and that Aaron rose to the level of All-Star Melanie. Nigel pleads with Aaron to lower his shoulders, but Mary says, despite the shoulders, she thought the routine was crazy good.

Jasmine's mom says each time she watches her daughter perform, it's like seeing her for the first time. The Contemporary dancer does her solo to Destiny's Child's rendition of "Amazing Grace."

Before Paul's solo, his mother says she is lucky to have him for her son and she is blown away by his accomplishments. The Latin Ballroom dancer struts his stuff to Huecco's "Mamba Negra."

Up next, Fik-Shun tackles a fox-trot with All-Star Witney (Season 9). The dance, choreographed by Jonathan Roberts, is faster and sexier than a typical fox-trot, making it a difficult challenge for the Hip-Hop dancer. The pair performs the hot Ballroom number to Jessie J's "Sexy Silk." Mary feels, despite some rough spots, that Fik-Shun still had some nice lines. Jesse thinks it looked like Witney was dragging him around and that his typically bright light was a little contained. Nigel agrees that Witney dominated the routine but hopes the audience votes will save him.

Hayley's mom is proud of her daughter's passion and says it brings joy to her heart to see how dance has gotten her through the good and bad times in life. Robyn's "Be Mine" provides the soundtrack for Hayley's solo.

Jasmine and All-Star Neil (Season 3) rehearse with choreographer Tyce Diorio, who explains that the dance is an homage to people affected by recent natural disasters. They dance a Contemporary piece to "Unfaithful" off the soundtrack of the same name. The routine brings the audience and judges to their feet. Nigel repeats last week's statement that Jasmine has stolen his heart. An emotional Mary tells Jasmine she is spectacular, and Jesse says she has become his favorite dancer.

Aaron's parents in Vegas say their son has wanted to be onstage since he was a young child, whether it's as a dancer, a DJ or a singer. In his solo Tap number, he cuts loose on "Use Me" by Bill Withers.

Amy and All-Star Alex (Season 7) take on a Bollywood number choreographed by Nakul Dev Mahajan. He explains that in the dance Amy plays a Bollywood bombshell diva, and Alex is her servant. They are in love, but that is not accepted in their world. The couple performs the routine to "Munni Badnaam Huj Darling" from the "Dabangg" soundtrack. Mary commends Amy's athleticism and says her performance was nuts, while Jesse complains that his quads and hamstrings hurt from just watching it. Nigel affirms that the routine was very difficult but it left him smiling.

For their first time dancing together, Paul and Hayley team up with choreographer Dee Caspary. The number is about a man reassuring a woman that he will be with her every step of the way. The pair dances the Contemporary routine to Sleeping At Last's "I'm Gonna Be (500 Miles)." Jesse feels their connection was vivid and clear and they don't look like they are first time partners. Nigel loves the flow of the movement and says they both are complete dancers who can do anything that's asked of them. Mary says she hopes they become a couple in real life, because they are so cute together.

Having been partners earlier in the season, Amy and Fik-Shun are reunited for a Dave Scott Hip-Hop number. The piece is about a sexy girl shopping for clothes while her boy looks on in anticipation. They dance the hard-hitting routine to "Lemme See" by Usher featuring Rick Ross. Nigel notes that Amy's performance proves you don't have to be in someone's face to be sexy. Mary calls them the "dream team," and Jesse dubs Fik-Shun a megastar and says that Amy is special.

For the last routine of the evening, Jasmine and Aaron work with Sean Cheesman for a Jazz routine. Aaron plays a man who is constantly staring in a mirror, and while he appears to be vain, he is actually looking at a woman only he can see. Jasmine's character is so obsessed with herself that her essence gets trapped inside a mirror. They perform the nonstop syncopated dance to Lord KraVen's "Mirror Mirror" and get a standing ovation from the judges and the fans for the high-concept piece. Mary applauds their deep conviction and says the dance establishes Jasmine as a top artist. Jesse admits he has a crush on Aaron and is a bit tongue-tied. Nigel commends Aaron for taking the advice and keeping his shoulders down. He also marvels at what Jasmine is able to do with her legs.

With the dancing wrapped up for the evening, it's time to reveal which two guys and which two girls will be advancing to the performance finale next week. After tallying the fan votes, the first girl put through to the finale is Amy. She is joined by Jasmine, which means Hayley will be leaving the competition. As for the boys, Aaron is the first to make the cut. He will compete against Fik-Shun, meaning Paul has been eliminated.

Tune in next week to watch Amy go head-to-head with Jasmine and Aaron take on Fik-Shun as they compete become America's Favorite Male and Female Dancer.