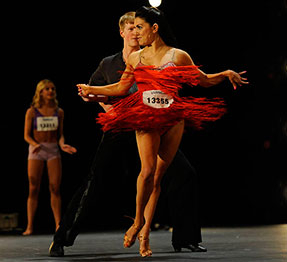 Auditions are about to begin for the 11th season of SO YOU THINK YOU CAN DANCE, as the show heads out on its audition trail to Atlanta, New Orleans and Los Angeles and newly added Philadelphia and Chicago. Hopefuls will have the opportunity to show the judges they have what it takes to be America's Favorite Dancer as auditions start on Monday, Jan. 13 at the Fox Theatre in Atlanta, GA. Please check www.fox.com/dance for additional details.
Audition information is as follows:


Atlanta, GA
*
Monday, Jan. 13
Fox Theatre
660 Peachtree St. NE
Atlanta, GA 30308


Philadelphia, PA
**
Monday, Jan. 20
Merriam Theatre
250 South Broad St.
Philadelphia, PA 19102


New Orleans, LA
**
Friday, Jan. 31
New Orleans Ernest N. Morial
Convention Center
900 Convention Center Blvd.
New Orleans, LA 70130


Chicago, IL
*
Thursday, Feb. 27
Oriental Theatre
24 West Randolph St.
Chicago, IL 60601
Los Angeles, CA
**
Sunday, March 23
Orpheum Theatre
842 Broadway
Los Angeles, CA 90014
Registration will begin at 8:00 AM at each venue. Auditioners traveling to cities for the open calls should make arrangements to stay for at least two days following their initial audition in the event of a callback.
Dancers either must be U.S. citizens, legal permanent residents of the U.S. or possess current legal Employment Authorization Cards enabling them to seek employment freely in the U.S. (i.e., without restrictions as to employer) by the date specified in the eligibility rules. Dancers must be no younger than 18 or older than 30 years of age on the first day they register for auditions. Any dancer who is a minor in his/her state of residence must also have a parent or legal guardian sign all required documents. Dancers must provide legal, valid proof of age when they register for auditions. Check www.fox.com/dance for full eligibility rules.
*Contestants must be available for an extra 3 days for callbacks
**Contestants must be available for an extra 2 days for callbacks
Download Season 11 Audition Agreement
Download Season 11 Eligibility Requirements
Download Season 11 Personal Release Form
Download Season 11 Music Info Form