Date of Episode: Tuesday / 08/20/2013
Top 8 Perform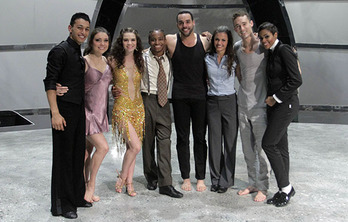 This evening our Top 8 favorite dancers get the crowd pumped by opening the show with a cabaret-inspired routine set to Brick + Mortar's "Move to the Ocean" and choreographed by Mia Michaels. Joining Mary and Nigel at the judges' table is actress Jenna Elfman of "Dharma and Greg" fame, who actually began her professional career as a classically trained dancer.

In a new twist for the show, the All-Stars have choreographed the upcoming routines they'll be dancing with each of the contestants. The remaining Top 8 include Amy Yakima, Aaron Turner, Hayley Erbert, Du-Shaunt "Fik-Shun" Stegall, Jasmine Harper, Jenna Johnson, Paul Karmiryan and Tucker Knox. Last week's voting has put four dancers in danger of going home: Fik-Shun, Jenna, Tucker and Hayley are all at risk. Nigel says this is the final week where the judges will weigh in on who is going home, so all four dancers should dance for their lives.

First up, appearing for the first time in the bottom four, Fik-Shun dances to edIT's "If You Crump Stand Up." David J. Roch's "Skin & Bones" accompanies Hayley during her solo. Jenna saunters across the stage to Swedish House Mafia's "Greyhound." Lastly, but certainly not least, Tucker performs to "Beautiful Child" by Rufus Wainright. At the end of the show, two of these dancers will be going home.

Season 4's Chelsie returns to the So You Think You Can Dance stage, choreographing a Jive number for Aaron to perform with her. This week the dancers speak about who inspired them growing up, and we learn that Aaron's best friend Cory was his reason for creating music. Sadly, during their senior year in high school, Cory was driving home and got into an accident, ending up in a coma before he passed away. Chelsea explains that the routine is about a 1950s boyfriend and girlfriend who are hanging out when Jive takes hold of them, and the Million Dollar Quartet's rendition of the Jerry Lee Lewis classic "Great Balls of Fire" provides the soundtrack for the number. Mary screams in adulation and welcomes Ms. Hightower back to the show before she advises Aaron that he should have stayed up a little bit more on the balls of his feet. Jenna thought the piece was awesome and says she is impressed with Aaron's journey and can't wait to see what he will become. Nigel states that he's a little surprised that the performance wasn't as good as it could have been, but he hopes that the fans take everything Aaron's done in the competition into account when voting.

The lone Hip-Hop dancer left in the competition, Fik-Shun says he's inspired by his parents, who always taught him to follow his dreams. His mother says his dancing has brought her to tears, while his father describes watching his son as a joy that can't be explained. Fik-Shun teams up with All-Star Allison Holker (Season 2), who explains that their number is about fighting society's prejudice. The duo performs to Birdy's "Skinny Love." Jenna says Allison is perfect and the kind of dancer she wants to be when she grows up, and she thinks Fik-Shun is already an All-Star. Nigel says the routine was wonderful and it was great at illustrating Allison's real-life relationship with tWitch. He also notes that while being in the bottom ranks this week must be a shock to the system, Fik-Shun's performances have an element to them that cannot be ignored. Mary says the choreography was breathtaking and notes that Allison could not have created this piece without Fik-Shun being there for her.

Tucker too says his family provides his inspiration. His father was a football star in college, but he showed up at every dance recital cheering him on as if he were a star quarterback. Tucker's dad in turn says his son was an inspiration to their family. Season 4's Courtney Galiano appears to team up in a "Romeo and Juliet" themed dance set to "Clarity" by Zedd featuring Foxes. In Courtney's version, the couple lives happily ever after. Nigel says Tucker is an inspiration and he is proud of him as well as his father. Nigel also lets us all know that Courtney was diagnosed with multiple sclerosis and went blind for a time, but she is back and choreographed a beautiful number, leading him to stand up and applaud in appreciation and respect for her, as do his fellow judges. Mary says it's amazing to have such family support, and she loves Tucker and his dad for supporting him. Jenna says there wasn't enough time to tell Tucker how much he's affected her, so she'll talk to him after the show, but she thanks him now for his performance.

Paul reveals that his source of inspiration is his dance coach, Gregory, who is like a brother to him, and he says he wouldn't be where he is today without Gregory's generosity. All-Star Comfort (Season 4) materializes to say she's going to transform Paul into a graffiti artist in a number that is about the true essence of Hip-Hop. Paul says he'll have to forget everything about Ballroom and get down and dirty as the pair performs to Tedashii and Lecrae's "Dum Dum." Mary gives props to Comfort's choreography and calls Paul one of the most versatile dancers on the show, as this style couldn't be further from his own genre of Latin Ballroom. Jenna says that when she first saw Paul audition, she never thought she'd see him dancing like this. Nigel thanks Comfort for a fun routine and jokes that she must have made Paul feel a little uncomfortable trying to get him down and dirty.

Hayley teams up with All-Star dancer and choreographer Dmitry (Season 2) for a Rumba after explaining that her dancer teachers Amy and Steph are her biggest inspiration. Hayley recalls driving three hours back and forth just to train with them. The piece Dmitry has prepared for them is about an engaged couple, with Hayley discovering that she's been cheated on and needing to find the strength to break off the relationship. Hayley vows to find out who Dmitry's cheating on her with (it's Mary!), and the pair break up to Elizaveta's "Meant." Jenna quips she could spend the next two minutes with Dmitry and that there is nothing Hayley can't do. Nigel agrees, commenting on how Hayley's grown from week to week. Mary jokes that she'll forgive Dmitry for letting their secret out and says Hayley got it right tonight and danced beautifully, melting all the oil off of the painting's canvas because she was so hot.

Contestant Jenna reveals that her cousin Shanna is her inspiration, although she sadly passed away from muscular dystrophy. She says that Shanna taught her to appreciate everything she has in life, and on her first night on the show she dreamt that her cousin was in the audience. The performance that follows finds Jenna teaming up with another Season 4 alumnus, Mark Kanemura, in a piece that is all about style. Mark wants Jenna to shed her skin and bring out her inner alien in his number set to 2NE1's "I Am the Best." The crowd roars in approval, while the judges stand in recognition. Nigel says this choreography was phenomenal and Mark should not only be Lady Gaga's number-one dancer — he should be her number-one choreographer. Nigel also declares that it has been a pleasure to have Jenna on this show and celebrate dance every time she's on the stage, even in crazy numbers like this one. Mary chimes in that they "love crazy" on the show, saying the dance was some sort of New Age funk, and Jenna pulled it off marvelously. Jenna mentions that of course she loves Jenna's name and also raves that she's a beautiful woman and a beautiful dancer.

All-Star tWitch from Season 4 surfaces next to display out his choreography skills in a piece about superheroes that brings him and partner Jasmine together to the tune of District 78's remix of "The Power." Jasmine says her inspiration is her mom, who was a single parent but always made sure that Jasmine's dancing dreams were realized. Mary observes that Jasmine could have been really intimidated by dancing with tWitch, but she didn't hold back at all and was cooking on all cylinders. Jenna comments that tWitch always brings life and humor to dance, and every time Jasmine dances, Jenna knows that everything in the world will be just fine. Nigel agrees and remembers tWitch's orchestra solo in Vegas. He asks Jasmine how she can out-tWitch tWitch, especially when tWitch is choreographing, but she has stolen Nigel's heart and is his new favorite.

The mere mention of Travis Wall (Season 2) sets the crowd on fire. Before he can take the stage with Amy, she lets everyone know that her cousin Elizabeth is her inspiration: she's a professional dancer who performs as part of the famous Rockettes. Travis says their piece is about the games people play when first entering a relationship, with James Vincent McMorrow's take on Chris Isaak's "Wicked Game" providing the soundtrack. Jenna calls Travis' choreography perfection and declares that the world is such a better place with Travis and Amy in it. Nigel calls Amy's performance beautiful, while he says that Travis has something very special and he will be able to achieve a level beyond his wildest dreams — he's a genius. Mary says that Amy's pieces this year have been cutesy, but tonight she went to a different place and there was such class to this number.

After a night of outstanding performances, it's time to say goodbye to someone. Nigel reveals that the judges were totally divided tonight as he asks Tucker and Jenna to step forward. He lets Jenna know that this was the best performance she's given, and this was also an amazing night for Tucker, but because of the situation, they'll both be going home for a week, although they'll be back to appear on the finale. Fik-Shun and Amy are both safe. They started the show as partners and leave together as "Team Tuna" says goodbye.

It's time to pick up the phone and vote for your favorites — remember that, beginning next week, it's all out of the judges' hands. And next week we get to find out who will be performing in the Season 1.