Date of Episode: Tuesday / 08/13/2013
Top 10 Perform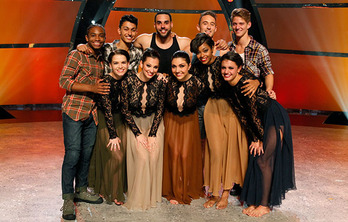 This week's show opens with the Top 10 performing a group number choreographed by Christopher Scott and set to the haunting piece "The Gravel Road," from the M. Night Shyamalan film "The Village." The partnerships we've grown to adore are all disbanded this week so the dancers can perform with the All-Stars — top contestants returning from seasons past. And joining Nigel and Mary this week at the judges' table is an incomparable living legend of the dance community, Debbie Allen.

Competing against each for the first time purely on their own, the Top 10 include Amy Yakima, Aaron Turner, Hayley Erbert, Du-Shaunt "Fik-Shun" Stegall, Jasmine Harper, Nico Greetham, Jenna Johnson, Paul Karmiryan, Makenzie Dustman and Tucker Knox. Since Tucker was injured last week and couldn't dance, he is automatically ranked in this week's bottom two guys, alongside Nico. Joining them on the girls' side are Makenzie and Jenna. This being the first night to feature the All-Stars, and since we've already seen multiple performances from all of the season's hopefuls, Nigel just wants to get the show going without any solos.

Amy joins Season 5's Brandon for a Disco number. For those who remember, All-Star Brandon Bryant and his partner from that season, Janette, just would not stop moving for their Disco routines, so Amy has her work cut out for her. Tackling choreography by Doriana Sanchez, Amy is admittedly scared of the "Disco-locating, as in 'dislocating'" turns, set to Hex Hector's remix of "I Will Always Love You." The performance gets the crowd riled up and has Cat bowing in adoration of the breathtaking drops throughout the piece. Mary says she's already exhausted by the first Disco number of the season, and although she's not crazy about the song choice, she says she is crazy about Amy and will "always love" her. Debbie comments that Brandon and Amy are quite well-paired and Amy is a stick of dynamite. Nigel says Amy stands out more than the Disco ball and observes that Disco is one of the toughest genres to do because it requires so much energy. Nigel also tells Amy that she reminds him of Season 8 winner Melanie and he hopes that she will get the chance to learn from her.

Next, Stacey Tookey's piece about unconditional love, a love letter to her husband, is performed by Aaron and All-Star Kathryn McCormick (Season 6) to Des'ree's "I'm Kissing You." Thanks to Aaron's height, Kathryn is able to twirl herself into and around her partner. The second performance of the night earns the second standing ovation of the evening as well. Debbie says she needs the fire department because the stage is on fire; she also remarks that she's proud of Tapper Aaron and his growth from week to week, and she feels he is a breath of fresh air who has raised the bar of the competition with his performance tonight. Nigel thinks it's marvelous how all of the chemistry and fluidity came together, and judging by the look on Kathryn's face at the end of the number, she must have felt Aaron was a pleasure to perform with. Mary agrees with her fellow judges and says the number was beautiful and touching and adds that Aaron's strength and tenderness is an inspiration. Overwhelmed by the judges' comments, Aaron says Kathryn brought him to a totally different place.

Speaking of Melanie, the original "beast" and Season 8 champ teams up with Fik-Shun tonight for a Mandy Moore Jazz number. Mandy says the piece is about a great performer whose ex-lover comes to town. Fik-Shun needs to really step up the pace to match the dancing dynamo in the piece, which is set to Jennifer Hudson's version of the staple "Feeling Good." Nigel says he's proud of Fik-Shun for being able to keep up with Melanie as well as for his growth and journey this year, which has been fantastic. Mary chimes in that Fik-Shun is looking and "feeling good"; his lines are getting better and his shoulders are down and he has been out of this world. Debbie remarks that his name is Fik-Shun, but his performance was real. She says she doesn't even think of Fik-Shun as a Hip-Hop dancer, and the performance was like two trains melding together head-on.

Season 9's Witney Carson teams up with Paul to get their Cha-Cha on to Jennifer Lopez's "Live It Up" and Jean-Marc Généreux's choreography, blending blinding speed with white-hot chemistry. Mary welcomes Witney back to the show and says that Paul can dance his butt off with his footwork and rhythm — whether it's planes, trains or automobiles, Paul is going somewhere, and tonight it's the Hot Tamale Train! Debbie jokes that the police need to be called for Witney's outfit. She also thought Paul was tailor-made for this number since he is a Ballroom dancer, and he did not disappoint. Nigel says he's sad that this partnership has to break up now after a week and warns that it's going to be a challenge to beat Paul (who also receives happy birthday wishes from the crowd).

It wouldn't be an All-Star week without Season 4 favorite tWitch. The newly engaged dancing superstar teams up with Hayley for a Christopher Scott Hip-Hop piece set to a District 78 mix of Bruno Mars' "Locked Out of Heaven." The number sees tWitch trying to get a loan from loan officer Hayley, and Cat assures us that the loan was approved. Debbie thanks Christopher Scott for his versatility as a choreographer, saying that the number went beyond Hip-Hop — it was much more than that, theatrical even. She also admits that it can be hard dancing with someone as charismatic as tWitch. Nigel congratulates tWitch on all of his success since coming on the show. He also says he loves that Christopher gave Hayley a funky routine to perform, calling her a dark horse in the competition, as she is able to give choreographers exactly what they want. Mary gives tWitch props as well and agrees with Nigel that Hayley may seem under the radar, but she is definitely a force to be reckoned with.

Jenna might be a judges' favorite, but for some reason she has been unable to connect with America and keeps landing in the bottom. This week, she performs with All-Star Neil Haskell (Season 3) for a Mandy Moore contemporary piece about lost love, set to Mark Masri's "I Can't Make You Love Me." In the past, Neil has always seemed to be able to wring a breathtaking moment out of his partner, such as Melanie's death-defying leap across the stage; can he do it again tonight for Jenna? With all of the candles on the floor for the piece, Nigel jokes about celebrating Mary's birthday. As for the dance, Nigel loved the number; it was beautifully choreographed and beautifully danced — the second wonderful routine of the night from Mandy Moore. He remarks that Jenna is one of the best all-around dancers they've seen this season, and it must be hard for her to keep winding up in the bottom three. Mary comments on the assisted run of the piece, saying the last lift is what got her teary-eyed. Debbie says she sees Jenna as one of the most gifted dancers to ever take the stage and jokes that maybe America just likes to see her perform solos.

Ray Leeper gives the gift of Jazz to Jasmine and All-Star Marko (Season 8) in a number requiring them to be in almost total lockstep with one another. The song of the summer, Robin Thicke's "Blurred Lines," is the soundtrack for this one. Mary does her happy dance in appreciation, saying the only thing the official "Blurred Lines" video was missing was these two dancing in it. Debbie loved the number and Jasmine's legs, which stretched out to infinity. Nigel says he wasn't sure if there was one All-Star dancing or two and raves that Jasmine was fantastic.

Makenzie and All-Star Jakob (Season 6) tackle a Spencer Liff Broadway number set to Ella Fitzgerald's "Too Darn Hot," in a good old-fashioned love story that features Jakob spotting Makenzie from across the room. The number has Debbie Allen screaming in delight as she recalls the days of dancers like Cyd Charisse, whom she compares Makenzie to. Nigel jokes that he's sick of even giving compliments, because for some reason America's just not getting it. Mary says that Jakob was amazing and she's impressed at Makenzie's ability to keep up with him.

The best female Hip-Hop dancer of the series, Comfort, returns to team up with Nico for a NappyTabs Hip-Hop routine set to Missy Elliott's "Get Ur Freak On." Oddly, the number is about a pair of reptiles on the prowl who get their freak on, and the movement needs to be explosive for this piece. Nigel thinks the audience likes the number more than he did, but he mentions that, maybe for the first time, Nico was able to immerse himself in the character. Mary says we know Comfort can get her freak on, and tonight Nico was able to get his freak on too. Debbie enjoyed the number and says a piece like this shows how dancers can become great actors since they have to draw on their emotions — and Nico made her feel like she was in "Jurassic Park."

All-Star choreographer Travis Wall (Season 2) pairs up All-Star Robert Roldan (Season 7) and Tucker Knox for a Contemporary piece about both men's experiences with their own tragic accidents and what it's like to come back from them. The pair dances to "Medicine," by Daughter. Holding back tears, Mary says it was a special night to see Robert performing again and a miracle to see Tucker dance after being paralyzed for some time. Debbie agrees with Mary and adds that she doesn't know how Tucker could be considered at the bottom since he's at the top. Nigel calls the number an incredible piece, mentioning how Tucker was told he'd never walk again and Robert's fall last year could have ended his career, and he also recalls Travis's brother, former contestant Danny Tidwell.

But the time has come to find out who is going home, and Nigel says it just keeps getting tougher and tougher to choose. The decision on the boys was unanimous, and the girls' vote was a nine-to-six split vote among the judges and choreographers. After congratulating everyone, Nigel lets Makenzie know that even though she is his favorite dancer, he was outvoted and she'll be going home along with Nico, leaving Tucker and Jenna to remain in the Top 8.

If Nigel thinks making a decision was tough this time, imagine what it will be like next week once the votes are in from this week's amazing performances. And, in a first for the show, we'll be seeing the All-Stars both choreographing and dancing with the Top 8. So don't forget to tune in and keep casting your votes to send your favorites straight to the top on So You Think You Can Dance.