Date of Episode: Tuesday / 09/03/2013
Top 4 Perform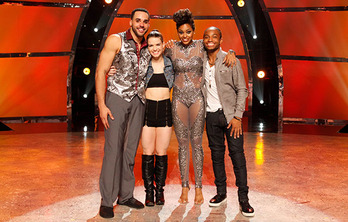 Only one guy and one girl can claim victory this week and go on to become America's Favorite Dancer — who will it be? Will it be Du-Shaunt "Fik-Shun" Stegall, the scrappy Hip-Hop dancer from Wichita, Kansas? Or can Las Vegas hopeful Aaron Turner become the first ever Tapper to claim the crown? As for the ladies: Can Nigel's favorite dancer, Rochester, New York native Jasmine Harper, best Northville, Michigan's own Amy Yakima?

As we enter the dance world's "Final Four" competition in the performance finale of So You Think You Can Dance, the contestants will take the stage five times each to perform a solo, a number with each of their fellow contestants and a dance in the style of their choice with an All-Star. Nigel and Mary are joined at the judges' table tonight by Olympic gold medal gymnast Gabby Douglas and dancing/judging phenomenon Paula Abdul.

Kicking things off, we have a Ray Leeper Jazz routine featuring Aaron and Amy, who are performing together for the first time in a piece that is sure to test their stamina and endurance. The nonstop action is set to Richard Vission and Luciana's "Primitive." Nigel remarks that the number was a great way to start the show and praises the costume department for their work this season. Mary says they knocked it out of the park and attacked the piece ferociously, as Amy made look it easy pirouetting and then tossing herself into Aaron's arms. Gabby loves the spunky dance and wishes the two contestants all the best. Paula calls it a nice departure from what the pair has been accustomed to and praises Aaron for his partnering work that never overshadowed his dance mate.

Hostess Cat Deeley chimes in to let us know that we can tweet to request our favorite routines we want to see in next week's finale. The choice is between "Silver Screen," featuring Malece and Jade; or "Wicked Game," which Travis Wall performed with Amy.

Travis Wall, no stranger to finales, has choreographed a Contemporary number for Fik-Shun and Jasmine, who are also dancing together for the first time. Both dancers know that their immense height difference can be a challenge, but both are more than up for it. The pair performs to Angela Yoffe and Vadim Gluzman's "Spiegel im Spiegel." Mary says the routine was brilliant and the movement was beautiful, and although she thought that pairing wouldn't work, she was proven wrong. Gabby compliments Jasmine on her lines. Paula comments that Jasmine reminds her of Cyd Charisse in "Singin' in the Rain," and she's also extremely proud of Fik-Shun and his journey since the show "Live to Dance." Nigel remarks that Jasmine's extensions go beyond extensions and that he doesn't know how long ago "Live to Dance" took place, but he has seen incredible growth in Fik-Shun this season alone.

Not surprisingly, Aaron chooses Tap as his genre to perform with an All-Star, which means that it's the first time a Tap routine will be featured. "When I Was Your Man" by Bruno Mars provides the beat for Aaron's fancy feet and his partner, as choreographed by Anthony Morigerato. Gabby says the number was incredible and she's in awe of the piece. Paula loves that a Tap number finally graced the stage, and she thinks it was a coup that the show got Anthony Morigerato. She also observes that Aaron is the ultimate storyteller this season. Nigel agrees, saying that we mustn't lose Tap, and he thanks Aaron for being the first Tapper ever in the finale. Mary welcomes Melinda back to the show, saying she loved the conflict rhythms of the dance.

Instead of picking her own style, Jasmine steps out of her comfort zone and chooses to perform a Hip-Hop routine with All-Star Comfort in a Nappytabs number. Napoleon and Tabitha surprised the girls with a pair of bikes they'd ride onto the stage. Nappytabs' very own version of Beyoncé's "Run the World (Girls)" provides the soundtrack for this empowering piece, which sets the crowd ablaze. Paula says the number was unbelievable and she believes that if these two ran the world, it'd be really fun. Nigel commends Comfort for her growth outside of the competition and quotes Randy Jackson, telling Jasmine she's in it to win it. Mary says Jasmine danced this one like she'd choreographed it, because she's such a badass. Gabby remarks that Jasmine should get a call from Beyoncé and work for her, and she jokes that she may have found her new floor team for 2014.

Amy and Fik-Shun reunite for an Argentine Tango, choreographed by Miriam Larici and Leonardo Barrionuevo, and set to PP Music's "Hazardous." Nigel says he loves Miriam and Leonardo; he also notes that this was Fik-Shun's biggest challenge all year, and it wasn't strong enough in his opinion, but Amy just showed that she is a worthy opponent to Jasmine. Mary says she loved the choreography and its lifts, and Fik-Shun did a commendable job of partnering and was there for Amy every step of the way. Gabby offers that she loved the routine and loved the pair's chemistry. Paula says the choreography was stunning, and although not operating in his wheelhouse, Fik-Shun handled his women well, while Amy was perfect as far as Paula was concerned.

We are reminded of Jasmine's journey to the finale: from breaking up with Season 9 contestant Cyrus on through the judges asking her to believe in herself and performing in a music video for Sierra. She now has all the confidence in the world and shows it in her solo, set to India.Arie's "Ready for Love." Paula says it's a delicate balance of showing vulnerability while maintaining technique, which Jasmine pulls off every week. Nigel explains that there is a panel of about nine judges that decides who's in the Top 20, and had it not been for Cat fervently defending Jasmine, she might not have been a part of this year's Top 20, although he's so happy that she's proven herself worthy. Mary admits she was wrong and she's witnessed a star emerging from week to week, while Gabby simply wishes Jasmine all the best.

Luckily the show pauses for a commercial break, since Jasmine is up again, reuniting with Aaron for a Dmitry Chaplin-choreographed Samba. Dmitry says you need spice, fire and magic to make the perfect Samba, and this one is set to Ricki-Lee's "Can't Touch It." Mary notes that the choreography was great but unfortunately was not danced very well: she thought Aaron looked a little awkward stepping onto the stage and the technique wasn't there for him, while Jasmine wasn't bad but not where she needed to be. Gabby agrees, but still thought the pair gave it their all. Paula adds that she's happy to see the pair back together and she enjoyed their synergy. Nigel has agreed with Paula up until this moment, but he says he expected more from the duo and didn't feel the chemistry.

Before his solo, we're reminded of Fik-Shun's saga in reaching the finale. He first started performing in Vegas at 17 and won the judges over. In front of a crowd, Fik-Shun feels he's in control, but he says that having never seen a Vegas week, he was shocked by how difficult it was. He recalls his first time onstage with Amy dancing a Sonya Tayeh routine, which made him feel he could do anything in this competition, and he praises his partnership with Amy. The dance hit "Gangnam Style" by PSY helps Fik-Shun get the crowd rocking this time around. Nigel says he loved the personality Fik-Shun showed in his performance. Mary states that he makes her happy. Gabby says he rocks her socks, and Paula loves his infectious smile.

Amy's first audition was in her hometown in Michigan. She comes from a dancing family, and even her father danced at auditions. Amy knew she had to give it her all, as praise from the judges kept her hopes up during Vegas week, and she too has good things to say about her partnership with Fik-Shun. Amy also remembers dancing with Travis as being one of the best experiences in her life, which she won't forget. Her finale solo is set to the staple "Unchained Melody" by The Righteous Brothers. Mary says Amy's control is exquisite. Gabby finds that she's incredible. Paula comments that she remembers Amy's solos the most this year, saying she is just phenomenal to watch. Nigel can't believe the stamina Amy has, noting that she's getting better and better as the night rolls on.

Fik-Shun said if he got to perform with tWitch, it would make his life awesome. Choreographer Luther Brown will try to make Fik-Shun's dream fact, as the pair perform to "Hello Good Morning" by Diddy-Dirty Money. Can Fik-Shun do the unthinkable and overshadow tWitch's charisma? The crowd roars its approval. Gabby says every time she sees Fik-Shun dance, she is amazed. Paula thinks the number was fantastic and jokes that it would be beyond awesome if she could dance with Nigel. Nigel quips that it was like seeing tWitch and tWitch, Jr. together; the number was tremendous and showcased Fik-Shun's personality. Mary says it was like watching the funky Charleston and she thinks he'll be so proud watching this video.

Aaron had wanted to perform ever since he was a kid, and he finally got an opportunity when he was nine years old. He tried out for last year's show and was cut at the Green Mile, but the cut made him want to train harder. Although he unfortunately was cut again this year, an injury to one of the Top 20 competitors allowed Aaron to step into that spot, and he knew that his opportunity was here. The Tapper lays it all on the line, performing to Jason Mraz's "You and I Both." Gabby says Aaron is truly amazing, and she loves his drive and passion. Paula also says she adores him and thanks him for reminding America that the doors of opportunity don't close until you close them. Nigel advises him that fate brought him to the show for a reason, while Mary is just honored to be a part of his journey.

Stacey Tookey's heart-wrenching Contemporary choreography graces the stage as Amy and All-Star Robert team up for a number danced to "Say Something" by A Great Big World. This piece is about two best friends, and the guy who has to step away because his feelings are too strong. Paula says this was her favorite routine of the night and the pair created a symphony. Nigel jokes that this was terrible choreography. The actual combination of performance and technique was intoxicating and it takes your breath away. Amy has become Nigel's favorite, and he thanks Robert for coming back. Mary remarks that Amy gives every part of herself in every performance, and she radiates energy right from the soul. Gabby says she was blown away and this was also one of her favorite routines of the night.

Aaron and Fik-Shun battle one-on-one in a Tyce Diorio Broadway number about the hustle and bustle of the big city, set to "The Jitters" by Big Bad Voodoo Daddy. Nigel comments that the number was reminiscent of a Michael Kidd routine. He thinks the guys must have been exhausted and just hopes that voters remember everything they have done all season as well as tonight. Mary says this was the cutest thing ever and praises Tyce's choreography and its ability to get everyone dancing in their seats. Gabby agrees, saying the guys put on an amazing show. Paula comments that the two top showmen of the season are on fire right now, and she praises Tyce, whom she helped to get his first big break many years ago.

Last but not least is the dancing alien, Mark Kanemura, choreographing a number for Amy and Jasmine. It's the tale of Siamese twins from the fierce jungles of Saturn, set to Eric Serra's "The Diva Dance" from "The Fifth Element." Mary says the number was crazy and quirky, and she loved every bit of it; she hopes there's a tie for first place. Paula jokes that she finally feels she's home. Nigel was wondering how the girls felt when they found out that their last dance would be performing as the Siamese twins from the jungles of Saturn; but he knows why Paula feels at home. He states that he has a hard time picking a winner, as both have stolen the show for him.

After tonight's stellar display of dancing, it's time now for the viewers to make their selections. Who will be crowned America's Favorite Dancer in the season finale? It will be another week before we find out!