Date of Episode: Tuesday / 08/06/2013
Top 12 Perform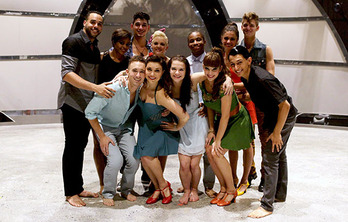 It's that special time that rolls around every year: time to reveal the Top 10 contestants on So You Think You Can Dance!

Producer/director/choreographer Kenny Ortega joins Mary and Nigel at the judges' table this week. The Top 12, minus an injured Tucker, begin their last night as couples before the Top 10 are revealed with a Bollywood number. One All-Star makes an early return to the show, as Alex Wong turns up to fill in for Tucker.

Nico and Jenna are saved by the judges, but Malece, Alan, Tucker and Amy are all on the chopping block. No matter how amazing all the performances are, there can only be a limited number of dancers left, and with that our Top 10 are revealed.

The second phase of competition begins next week when the hopefuls meet the All-Stars, so make sure you keep voting for your favorites on their way to becoming America's Favorite Dancer!