Date of Episode: Tuesday / 07/30/2013
Top 14 Perform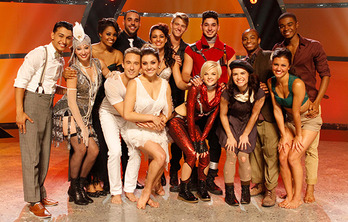 This week's So You Think You Can Dance opens with the remaining 14 dancers performing a number set to District 78's "Dimman Kryper Sakta In," featuring choreography from Emmy-nominated Motor City Madwoman Sonya Tayeh and Season 2 All-Star Dmitry Chaplin. Malece is showcased here swinging across the stage for a moment before all the guys and gals partner up.

Hostess Cat Deeley takes the stage and starts the show with some bad news: Tapper Curtis damaged his shoulder in rehearsals and will not be able to perform this week. Joining Nigel and Mary at the judges' table tonight is "Pitch Perfect" star Anna Kendrick. Cat introduces the Top 14 dancers for the evening: Alexis Juliano and Nico Greetham; Jenna Johnson and Tucker Knox; Malece Miller and Alan Bersten; Hayley Erbert and Curtis Holland (out with his injury); Amy Yakima and Du-Shaunt "Fik-Shun" Stegall; Makenzie Dustman and Paul Karmiryan; and Jasmine Harper and Aaron Turner.

Jasmine, Alan, Alexis, Curtis, Makenzie and Nico make up this week's bottom three girls and guys. Nigel tells the guys that none of them will have to "dance for their lives"; even though they're still in danger, the judges feel as if they've seen enough of each of their dancing to make a decision. As for the ladies, Nigel lets Makenzie know she's safe, but Alexis and Jasmine are asked to dance solos. Alexis is first, Tapping to Ben E. King's classic "Stand by Me," and Jasmine dances to Dianne Reeves' "Endangered Species." The judges will make their decisions known at the end of the show.

In tonight's "Get to Know Your Dancer" segments, each dancer heads into the "way back machine" to tell us about their first time dancing. Jenna says her first dance performance was with a bunch of older girls and she was jamming out to "Lollipop, Lollipop." Her partner Tucker's first time was to "Boy Meets Girl," and he wore a large white suit and got to dance with the girls — not because he was so suave, but because couldn't keep up with the guys. Tonight the pair teams up for a Luther Brown Hip-Hop routine set to Wale and Big Sean's "Slight Work," which forces the two Contemporary technicians to try to get down and dirty. Nigel thinks the performance wasn't up to snuff because Luther's choreography was more about feeling and less about steps. Mary believes the critique was a bit harsh, but she does agree with Nigel. Still, she liked that Tucker did his best to attack the number and thought Jenna was fabulous and "ratched." Anna comments that the routine was "cute," although the performance might not have been intended to be cute.

The next number features Alexis and Nico dancing to Sonya Tayeh's choreography. Alexis jokes about always dressing up in little girly-girl outfits, but she recalls that for her first dance performance she was dressed in a tux, which is also what made her fall in love with Tap. Nico admits that since he was the class clown, his teacher cast him as the class clown for his first routine. Tonight their routine is about a relationship that has ended, but the girl can't let go, with The Bengsons' "Ashes" helping to set the tone for this piece. As many Sonya numbers do, the piece got the audience out of its seats. Mary echoes the audience's sentiment and says she loved a lot of the little things about this dance, including Alexis' jump onto Nico's back and her standing run: sometimes the little things speak volumes. Anna says she's sad the duo is in jeopardy, since they were both able to show so much depth and emotional range throughout the routine. Nigel says that having Nico and Alexis both in the bottom ranks speaks to the amount of talent they have on the show this year, and he compliments the emotions both of them expressed in their performance.

Next we learn that Curtis was an energetic kid who danced the Mexican Hat Dance as his first-ever routine. Hayley says her first performance was ruined thanks to her clumsiness. Before Curtis injured himself, the pair had tried to tackle an demanding Argentine Tango choreographed by Miriam Larici and Leonardo Barrionuevo. Since Curtis can't perform, we get a rare treat as Leonardo steps in to dance with Hayley to Juan D'Arienzo's "Este es el Rey." Anna defers to Mary for the actual Ballroom critique but did like that Hayley has been able to establish herself as an emotional dancer who still can be sexy. Nigel remarks how Hayley was able to nail every step and how stunning she was. Mary says Hayley's performance was strong and impressive and she couldn't see how she was ever clumsy: she loved how Hayley was able to ooze into every step, and she agreed with Anna that she wanted to be Hayley today so she could dance with Leonardo.

Makenzie grew up in a family of performers, and her first performance was singing "These Boots Are Made for Walking." Her partner Paul's first performance didn't take place until he was 18, and it was part of a Latin Ballroom competition. Sonya Tayeh's choreography takes center stage again as the pair performs a strong and sultry Jazz number set to Switch and Sinden's remix of Santigold's "You'll Find a Way," and the crowd screeches their approval. Nigel says the dancers were both brilliant and he can't understand what America is not seeing in Makenzie — perhaps it's because Paul is well-loved and the girls who vote want to get rid of her. Paul already won the Armenian version of the show, and Nigel thinks that he is well on his way to winning this edition of the show as well. Mary agrees, stating that Makenzie has yet to take a wrong step in the competition, and noting that Sonya was able to bring out another side of Paul tonight. Anna remarks that the number was great and liked that both dancers were able to be powerful without using their looks.

Tapper Aaron admits he was a goofy character dancer whose first routine was actually choreographed by Napoleon D'umo before he became a famous choreographer. Jasmine recalls that her first performance had her in a tux and made her want to perform for the rest of her life. In this Justin Giles Contemporary number, Jasmine performs as the Giving Tree, while Aaron tries to get some apples as the couple dances to "The District Sleeps Alone Tonight" by Birdy. Mary thinks the number was very interesting and remarks how dancers will normally toss their props away within 30 seconds; however, this routine had the dancers using the apple the entire time and she loved watching the pair dance. Anna compliments Jasmine's grace and jokes that she'd watch her eat a bowl of cereal; she also has been rooting for Aaron this season and says she wants a piggyback ride from the Tapping giant. Nigel points out what Shel Silverstein's "The Giving Tree" is actually about — unconditional love. He believes the pair has displayed unconditional love for one another as partners.

Amy remembers that her first time on the stage was when she was seven and had way too much energy. Fik-Shun first performed in his high school's Winter Assembly. Dancing in a Christopher Scott routine, the pair portrays a customer and a waitress in an Italian bistro, with Marvin Gaye's "Let's Get It On" serving as the soundtrack. Despite Amy taking a brief tumble, she and Fik-Shun are able to burn up the floor. Anna says she wants to take Amy home and admits that she is one of her favorite contestants on the show. Nigel says that if the competition were based on cumulative points, the pair would be worlds ahead, although he critiques the choreographers for casting the couple as similar characters in each routine and says he can't wait to see them branch out. He puts this pair on par with Josh and Katee and Marko and Melanie. Mary says the piece was spectacular and she's upset the routine is over — the couple again has first-class tickets on the Hot Tamale Train!

The dancing Tinkerbell — Malece — and Alan take on the season's first Salsa, this one from Jonathan Platero, who was once a contestant in Season 5. Malece admits that stage fright took control of her first performance and she peed her pants. Alan says he competed in Ballroom for his first time out. The legendary Tito Puente's "Pa los Rumberos" gets the pair's Salsa hips moving for the routine. Nigel says the energy level needed for the routine was ridiculous and jokes that if they were going to give these kinds of lifts to anyone, they'd go to the girl who got dropped on her head during Vegas Week. Mary speaks to the difficulty of the number, saying she thought it was one of the fastest Salsas ever on the show and that she admired the way the duo were able to perform all of the lifts and then get back on time. Anna admits that she doesn't always get Ballroom on the show, but this number makes her want to go get lessons.

Next, Spencer Liff's Broadway choreography takes center stage in the first of two mini group routines. Alan, Makenzie, Hayley, Nico, Jenna, Malece and Spencer (filling in for Curtis) play pool and dance around a smoky pool hall to Joe Cocker's cover of The Beatles' "Come Together." Anna jokes that it's boring watching all of these incredible dancers and then gives a shout-out to the Steadicam operators who run around the stage bringing us a supreme viewing experience at home. Nigel says Spencer's presence in the routine made it difficult to watch the other guys. Mary agrees with Nigel and adds that the girls killed it. Nigel notes that Malece looked a little winded and he says it must've been hard to follow up the last number with this one.

The second group routine sees Jasmine, Alexis, Paul, Tucker, Fik-Shun, Aaron and Amy enacting Bonnie Story's choreography in a Contemporary number set to "Tears of an Angel" from RyanDan. Bonnie explains that her number is about bullying and is dedicated to her friend, who was a victim of bullying: the lesson is that if you're not a part of the solution, you're a part of the problem. The judges stand in support. Mary says she loves a piece with social conscience and welcomes Bonnie to the show. She thought everyone was tremendous but picks out Fik-Shun as the routine's weak link, technically. Anna simply says the number was tremendous. Nigel imparts that he's wanted Bonnie on the show since seeing "High School Musical." He says he can't understand how bullying is still around but likes that the show is addressing the issue head-on. Nigel also advises Fik-Shun that he needs to take the advice of judges and choreographers and learn and grow technically, because he certainly has enough heart and determination to go a long way.

The moment of truth is here as the bottom six contenders come back out. Nigel admits that we've seen enough of the dancers that emotional connections have been made. That being said, the decision was unanimous tonight, and it pains Nigel to do it, but they're sending Tappers Curtis and Alexis home.

Next week the field will be whittled down to the Top 10 and the All-Stars will be revealed — so make sure to pick up the phone and keep voting for your favorites!