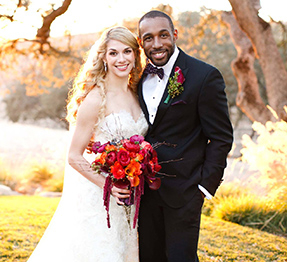 It's official! So You Think You Can Dance All-Stars/alumni/lovebirds Allison Holker and Stephen "tWitch" Boss are officially married! On Tuesday, December 10, the couple tied the knot at SYTYCD Executive Producer/Judge Nigel Lythgoe's vineyard - Villa San-Juliette Vineyard & Winery - in Paso Robles, CA. Nigel was in attendance, as were many So You Think You Can Dance alumni.

Allison's bridal party included Travis Wall from her original season (Season 2) and her SYTYCD All-Star friends Kathryn McCormick and Courtney Galiano. tWitch's groomsmen included three of his Season 4 pals: William Wingfield, Joshua Allen, and Comfort Fedoke. "IV Real!" Other SYTYCD alumni on hand to celebrate were Chelsie Hightower, Dmitry Chaplin, Cyrus Spencer, Nick Lazzarini, Ivan Koumaev, Melanie Moore, Robert Roldan, Gev Manoukian, and choreographer Christopher Scott.

American Idol Season 6 finalist Melinda Doolittle performed Jason Mraz's "I Won't Give Up" as Allison walked down the aisle, which is the song that played when tWitch proposed to Allison.

According to TV Guide, tWitch, Allison, and Allison's daughter, Weslie, surprised their guests at the reception with a Hip Hop routine to Justin Bieber's "Somebody to Love."

The couple expressed their love on Twitter. tWitch tweeted, "THATS RIGHT! It's official, MR AND MRS BOSS!!! #bosswedding2013 http://instagram.com/p/hw0b2Gw6Pw/." And Allison tweeted, "MRS. BOSS---- I married the man I love, I'm his forever!! @sir_twitch_alot #bosswedding2013 @Wattersdesigns http://www.whosay.com/l/rNV7oTi."

Congratulations Allison & tWitch Boss!

Which two SYTYCD alumni should tie the knot next?