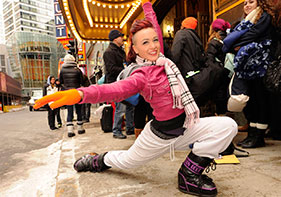 SO YOU THINK YOU CAN DANCE will be back for its 10th season!

Auditions for Season 10 will kick off Friday, Jan. 18 in Austin, TX at The Joe R. and Teresa Lozano Long Center for the Performing Arts. The show will continue its search for America's Favorite Dancers on Monday, Feb. 11 at Saint Andrew's Hall in Detroit, MI; Thursday, Feb. 21 at the Boston Opera House in Boston, MA; Thursday, March 14 at the Orpheum Theatre in Memphis, TN; and Friday, March 22 at the Orpheum Theatre in Los Angeles, CA.

"I couldn't be more proud of the amazing work that Nigel and the entire SO YOU THINK YOU CAN DANCE team has done over the past nine seasons," said Mike Darnell, President of Alternative Entertainment, Fox Broadcasting Company. "This show is truly one of the most compelling series on television and I can't wait to bring it back for Season 10."

n Season Ten, producers will travel across the country in search of dancers who represent the best America has to offer. Those who shine during auditions will be given a ticket to Las Vegas for call-backs, where they work with top choreographers to learn and then be judged on multiple styles of dance. The best of the best will then move on to the live competition shows this summer.