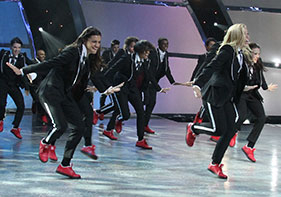 The Top 20 brought the heat with their first live group performance, a hip hop number choreographed by Nappy Tabs to the new single "Puttin' On the Ritz" by one of the most successful trumpet performers in pop history, Herb Alpert. It was full of fun behind the scenes action, amazing choreography and Alpert's groove inducing beat that even got Nigel and Mary in on the action!

Here are some fun facts about the Top 20 Performance:

Nappy Tabs also choreographed the official Herb Alpert music video which was the inspiration for the SYTYCD opener
The entire opening number was done all in one shot! (Crazy!)
We spotted Tabitha and Napoleon D'umo, Herb Alpert, Travis Wall, Sean Cheesman, Nigel Lythgoe, Chris Scott, Mary Murphy and Jason Gilkinson in the opening number! Who did you spot?
Watch the Top 20 Group Performance
Buy Herb Alpert's "Puttin' On the Ritz"